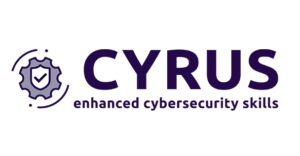 Call: DIGITAL-2022-TRAINING-02
Topic: DIGITAL-2022-TRAINING-02-SHORT-COURSES
Granting authority: European Health and Digital Executive Agency
Project starting date: fixed date: 1 January 2023
Project end date: 31 December 2025
Project duration: 36 months
Project summary
A need for cybersecurity has arisen together with the explosive growth in electronic device connectivity, both provided and exploited by businesses of all sectors and sizes. The massive data generated and exchanged by modern devices has to be protected from cybercrime, which has emerged as a fast growing market where the stakeholders, attackers and defenders, have access to an unprecedented wealth of technologies, attack strategies and defence systems. In the defender field, thriving companies are those with the know-how to dominate cyber risk.
Cybersecurity training is fundamental to help employees protect themselves and their companies against cyberattacks and threats. Cybersecurity training empowers employees with the expertise to identify cyber threats and determine the right actions to mitigate them. However, many organisational and economical limitations hinder companies, particularly SMEs, in effectively training their personnel. The Transport and Manufacturing (TM) sectors have efficiency constraints; thus, their employees are not easily involved in long traditional training courses. The CYRUS project proposes a novel training system to create an innovation DNA on cybersecurity for TM organisations. A complete set of skills and measures to be vigilant to identify and respond to cyber attacks will be delivered within the CYRUS framework, which exploits innovative methods for training implementation and delivery. Virtualisation, dedicated cyber-range simulations in operational settings, and work based learning will allow timely and efficient course delivery, overcome the current hindrance, and raise interest in the awareness program and good practices. The target group of the proposed training sessions are employees at all levels: new entrants building the required competences (skilling), professionals and managers improving and upgrading their expertise (upskilling and reskilling) updating on existing and emerging sector skills.
Cybersecurity training paths will be customized for each different role and organisation and personalised according to the audience skills, know-how, and attitudes.
Keywords:
– Continuing professional training
– IT skills and competence
– Education and Training
– SME support

Funded by the European Union. Views and opinions expressed are however those of the author(s) only and do not necessarily reflect those of the European Union or European Research Executive Agency (REA). Neither the European Union nor the granting authority can be held responsible for them.